Filter by Category
Meditation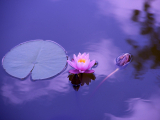 Mindful Meditation on Tuesdays in November / December at River House
with Judy Angyalfy

Nov 7, 2023 at 12:30 pm

, runs for 4 weeks
Experience the time-honored practice of mindfulness meditation that has been used as a path  toward peace for over 2500 years old. Examine the philosophy and psychology in which it is  rooted. There will be lecture, discussion, group sharing and a lot of guided practice.
This class  is appropriate for beginners and anyone who would like to deepen an existing practice.
Wear  comfortable clothing and come as you are. 
This class will be most effective for those who will commit to all four classes and also practice  daily at home for 10 to 15 minutes. This is an evidenced-based practice backed up by 40  years of scientific research that proves it changes the structure and function of the brain for  more happiness and resiliency from stress.
Judy Angyalfy is a retired nurse having practiced nursing for 43 years, and also a certified yoga  teacher. She first became interested in mindfulness meditation as a healing path after the  death of a beloved son in 2008. She experienced first hand the transformative power of the  practice and was both inspired and highly motivated to train to become a teacher. She trained  through the University of Massachusetts Center for Mindfulness in Medicine, Health Care, and  Society and completed the training in October of 2018 to be a qualified teacher of MBSR  (Mindfulness Based Stress Reduction.)  
"I look forward to sharing this powerful yet simple practice with anyone who would like to  reduce stress, increase resiliency to stress, and create a kinder, more compassionate world.  
Class sessions will be held on Tuesdays, Nov. 7, 14, 28 and Dec. 5 from 12:30 to 2:30 at River House (179 Marine St.  St. Augustine 32084).
No class sessions on Nov. 21 and Dec. 12, 19 & 26.
Classes are for ages 18 and up.
Full Course